GPR Rental or GPRRental.com
Rent and buy Sensors & Software's trademarked Noggin, pulseEKKO Pro with Ultra receiver, Conquest, and LMX systems. Additional specialty GPR items are available, such as Findar, Rescue Radar, and SPIDAR. These instruments range from 25MHz to 1000MHz and offer configurations for a variety of site conditions (e.g. SmartCart, SmartTow, SmartHandle, and other). Though the range of antennas is similar to others, the pulseEKKO Pro with its optional advanced Ultra receiver can stack over 65,000 traces per record, which out stacks its competition. Last, EKKO_PROJECT software organizes and complies reports that integrate GPR cross-sections, plan view slices, Google Earth, AutoCAD, and extensive post processing algorithms.
GPR Rental is part of Geophysical Equipment Rental's and K. D. Jones Instrument Corp's network. With over 35 years of geophysical experience and over 30 years of working and promoting Sensors & Software instruments, GPR Rental possesses the experience, knowledge, and customer service to assist with choosing a suitable ground penetrating radar system for the project, with selecting a proper frequency and system configuration, and delivering an instrument that is in good, working condition. Though we are a premier U.S. rental partner and distributor of Sensors & Software (a SPX company) the views and opinions of this site are independent of the manufacture.
We ship to all 50 states and Canada via FedEx or UPS!
GPR Rental Contact Us:
GPR Rental , Affiliate of K.D. Jones Instrument Corporation
P.O. Box 339, Mequon, WI 53092
Toll free: (800) 272-0301
Direct: (262) 442-6327
Fax: Call
Email Art@KDJonesInstruments.com, Nate@KDJonesInstruments.com, or rent@GeophysicalEquipmentRental.com
How does GPR work?
Ground Penetrating Radar sends a radar pulse into the ground. This pulse reflects or responds as it encounters contrasting soil layers or objects with different dielectric properties. The electrical contrast between materials determines the reflection coefficient, which affects how much signal could possibly reflect back to the instrument. Hence, materials with a high reflection coefficient are able to produce a stronger response. For instance, metal in concrete produces a greater signal than clay pottery in soil because there is a greater difference in reflection coefficients and electrical contrast for metal in concrete than for clay in soil. Note that under some situations strong reflections from shallow metal may make it tough or impossible to see deeper metal objects. This is because all or most of the radar pulse reflects or scatters off the shallow object before reaching a deeper target.
The displayed depth of a target, object, or soil/rock layer is a function of time. In other words, the instrument only measures the time the GPR pulse travels from the instrument's transmitter, reflects off an object or layer with different dielectric properties, and returns to the instrument's receiver. Therefore, displayed depths are estimates and are only as accurate as the chosen average velocity. Average velocities can change across a survey area, affecting the depth estimate's accuracy. Some basic examples of suggested velocities for different soils and materials are shown in the chart below :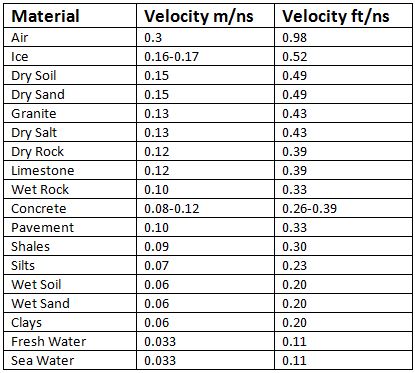 If in doubt, a value of 0.0328 ft/ns or 0.10 m/ns is often selected for non-conductive materials and can be changed during post processing. Some of the GPR systems allow hyperbola matching of anomalies to determine the proper velocity. Hyperbola matching frequently works best when crossing perpendicular to path of a smaller diameter cable or pipe. Hyperbola matching can lead to a poor velocity estimate when a cable or pipe is crossed at an angle or if the cable or pipe has a large diameter. Above all, GPR units accurately measure the travel time of a radar signal regardless of the average velocity value.
For an even more in-depth compilation of GPR velocities, visit GPR Velocity Table and Analysis.
GPR Limitations
First and foremost, ground penetrating radar works best with materials that have low electrical conductivity. For example, air, rock, ice, sand, gravel, plastic, and concrete. In effect, GPR does not do well transmitting a signal through electrically conductive materials such as water (note distilled water and ice are generally an exception), clay, and metal. Depending on the desired depth of investigation, poor conditions are not always a problem for shallow GPR surveys. Therefore, it is important when doing surveys on land to research the soil type and its inherent properties. For more information, reference the map below to view areas where GPR will work best.
GPR systems come in a number of different antenna frequencies that work better for certain applications. As a general rule, higher frequency antennas offer more detail or better resolution. On the other hand, higher frequencies cannot penetrate as deep into the ground because the signal scatters quickly and is more easily absorbed. As a rule, lower frequency antennas will penetrate deeper into the subsurface but respond poorly to smaller objects or targets of interest because of the large wavelength. Therefore, the results will not be as detailed. Nonetheless, in both cases more stacks per record will commonly lead to greater depths and more detail in difficult conditions. Unlike conventional GPR systems that typically stack 10's of records per trace, Sensors & Softwares' Ultra receiver is capable to stacking over 65,000 records per trace. Contact GPR Rental to discuss antenna frequencies for your site investigation.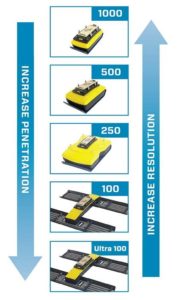 Depending on target size and depth of investigation, the following are common recommendations for antenna frequency use:
1000Mhz antennas uses include concrete scanning and infrastructure assessment. This includes locating wire mesh, conduit, high tension cables, rebar, slab thickness, and conditions immediately beneath the slab. Approximate depth of penetration in perfect conditions: less than 36 inches
500-200Mhz antennas uses commonly include locating utilities, voids, graves, foundations, drain tiles, underground storage tanks, archeological targets, and characterizing shallow geology. Approximate depth of penetration in perfect conditions: less than 6ft for 500MHz, less than 12ft for 250MHz, and less than 15ft for 200MHz (note pulseEKKO or Noggin Ultra receivers offer greater depths of penetration)
100-12.5Mhz antennas uses often include geologic mapping and geotechnical applications such fault/sinkholes locating, bedrock depth verification, soil stratigraphy mapping, water table delineation, and bathymetry. Approximate depth of penetration in perfect conditions: less than 30ft for 100MHz and less than 65ft for 50MHz (note pulseEKKO or Noggin Ultra systems offer greater depths of penetration)
pulseEKKO or Noggin with Ultra receiver antennas frequently obtain depths twice as deep as a conventional system. For example, a Noggin 100 Ultra may reach depths of +/- 50ft in soil conditions where a Noggin 100 is limited to a depth of 25ft.
What GPR systems does GPR Rental Offer?
GPR Rental rents ground penetrating radar instrumentation made by Sensors & Software Inc. Peter Annon, one of the pioneers of the ground penetrating radar methods, founded Sensors & Software. He is recognized worldwide as an innovative designer and manufacturer of professional high quality ground penetrating radar instrumentation and software.
Sensors & Software produces GPR systems for every common ground penetrating radar application and some very unique situations. Uses include but not limited to utility locating, concrete scanning, structural assessment, mining and quarrying, forensics, archaeology, geology, geotechnical and environmental assessment, glaciology, agriculture, and UXO detection.
The manufacturer's instrumentation focuses on being reliable and user-friendly as well as acquiring high quality data. For this reason, a number of configurations are available for different applications.
Available Sensors & Software systems at GPR Rental
Sensors & Software LMX
Sensors & Software LMX ground penetrating radar systems are designed for simplicity. This helps less demanding operators quickly "locate and mark" more obvious subsurface anomalies.
LMX's clearly complement traditional pipe and cable locators. With good conditions, operators have the potential to find both shallow and deep targets such as natural gas lines, oil and gas pipelines, cable television, fiber optics, telecommunication lines, electricity distribution, traffic lights, street lights, etc. Additionally, the LMX uses may include locating storm drains, water mains, septic systems, sewer laterals and wastewater PVC pipes.
The Sensors and Software LMX offers a touchscreen digital video logger, a lightweight cart, long-lasting battery, integrated GPS receiver, and dedicated 250MHz GPR antenna.
Read more about the Sensors & Software LMX.
Sensors & Software Noggin
Sensors & Software Noggin ground penetrating radar systems are adaptable ground penetrating systems ranging from 100MHz for deep penetration to 1000MHz for shallow, high resolution surveys. 250MHz and 500MHz antenna frequencies encompass investigations such as locating utilities, underground storage tanks, drainage systems, archaeology, and forensics.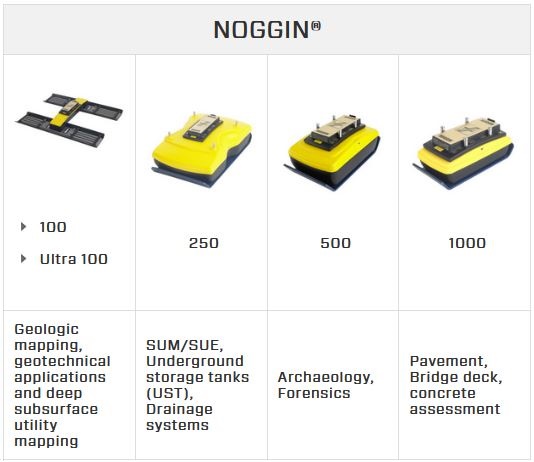 The antennas and digital video logger mounts in a variety of configurations to handle differing site conditions and environments. The most common being the SmartCart, SmartTow, and SmartHandle (not all options may be available.)
The Noggin series is more customizable than the LMX200 in that the users can set more parameters for their survey. In other words, the LMX200 is a simplified Noggin with a dedicated 250MHz antenna intended as a "Start-up and run" system. In contrast, many of the user controls for the Noggin's system settings are adjustable to customize and fit specific parameters and survey conditions. Also, the user has the option to order multiple antennas for one or more configurations (e.g., SmartCart, SmartHandle, or SmartTow). Unlike the pulseEKKO design, these systems can only use one antenna at a time.
The ability to choose a myriad of different antenna frequencies in different configurations makes the Noggin an excellent choice for a variety of subsurface investigations, depths, target requirements, and terrains. Often, users will order one configuration such as SmartCart and two different antennas to see what works best for their application. This allows users to order multiple antennas to investigate different size targets at the same site.
DVL500
Noggins with the DVL500 offer the following capabilities:
Mini-report: Produce instant reports from your unit.
Color field interpretations: Mark targets at depth with the touch of a finger.
In-field depth slicing: Flexible grid collection with immediate results.
Map view information: View a map of the GPS survey path, grids, field interpretations & flags.
USB data transfer: Project data easily exports to USB for post-processing.
Save configurations: Easily setup, name and save configurations to increase efficiency.
Read more about the Sensors & Software Noggin.
Sensors & Software pulseEKKO Pro
The pulseEKKO Pro line of GPR are Sensors & Software's most highly adaptable ground penetrating radar system with unparalleled performance. With a wide range of antennas available (50 MHz to 1000 MHz through GPRRental.com) users can optimize the frequency range for target size and spatial resolution. The Sensors & Software pulseEKKO Pro instrument comes with or without an optional Ultra Receiver. A pulseEKKO Pro with an Ultra Receiver is the manufacturer's most powerful and adaptable ground penetrating radar system. Both systems can run a huge range of bistatic antennas.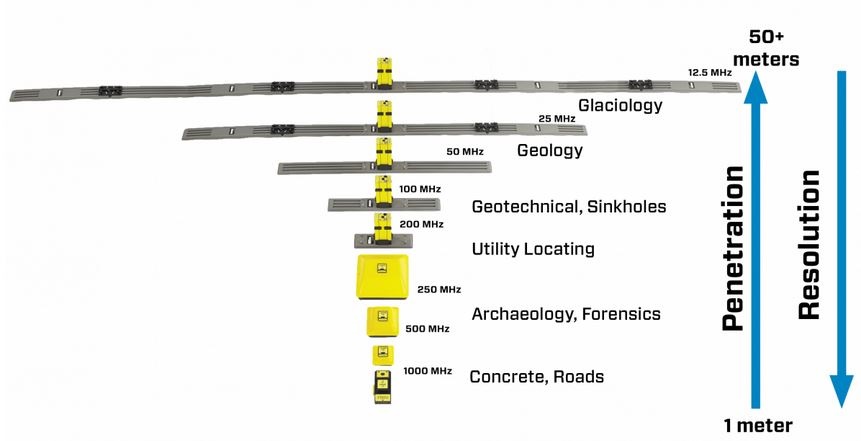 Bistatic antennas allow for multiple configurations including advanced methods such as the CMP, WARR, multi-fold and transillumination surveys.
Multiple frequencies can be ordered to allow the user to look for different size anomalies at different depths of investigation. The pulseEKKO pro uses the DVL500, which offers a touchscreen, internal GPS, and infield mini-report capabilities.
Further, many of the antennas are compatible with Sensors & Software's Ultra Receiver that stacks up to 65,536 traces with little reduction in collection time, reduces the noise floor to see GPR signals up to 10 times smaller than before, achieves up to double the depth of penetration, and collects 32-bit, high dynamic range data to see small, subtle, and real GPR signals.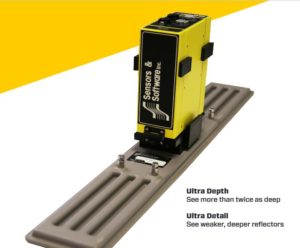 The Ultra Receiver allows detail and depth of penetration beyond conventional systems. Because regulatory agencies limit transmitter power in the USA, Canada and Europe greater depths of investigation cannot be obtained with greater output power. However, they do not limit recording capabilities. For the most accurate and detailed surveys, the pulseEKKO pro Ultra Receiver is a necessity for the true GPR professional. Read more about the Ultra Receiver at Sensors & Software.
Read more about Sensors & Software pulseEKKO Pro.
Sensors & Software TR1000 and Conquest
The TR1000 and Conquest GPR systems are handheld. Sensors & Software's TR1000 is pulseEKKO Pro's equivalent to the Conquest and Noggin 1000Mhz antenna. Although they are usually used for pavement or concrete scanning to find targets such as rebar, metal mesh, conduit, and high-tension cables the high frequency antennas can map variations in thickness and subsurface conditions. Others use for the 1000MHz systems include locating metal in wood, characterize walls, and detailing ice conditions. The TR1000/Conquest systems allow users to receive rapid and reliable results in the field and produce mini-reports using a DVL500. By all means, results can be recorded and later post-processed on a computer for more accurate and detailed data analysis.
Read more about Sensors & Software Conquest.
EKKO Project GPR Data Software
Sensors & Software's EKKO Project Suite software delivers a complete software package for managing, displaying, processing, and interpreting GPR data. With simplicity in mind, the user will save time by spending less time organizing, editing, and processing ground penetrating radar data. Hence, the user focuses more time and energy on the important facets of interpretation and extracting valuable information.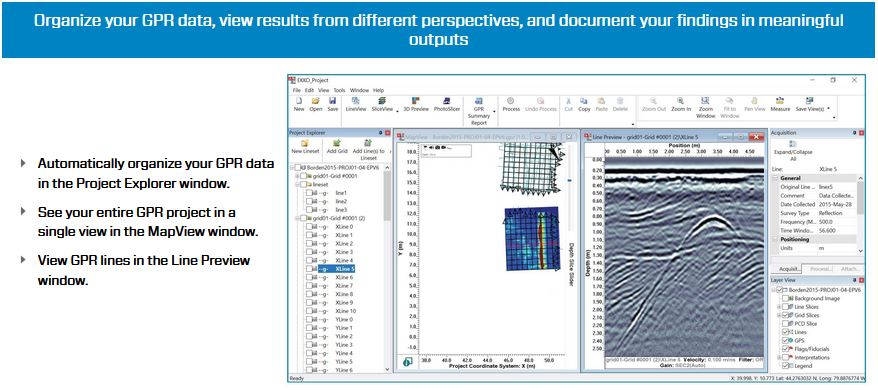 EKKO Project Modules:
Core: EKKO Project Core module allows the user to organize GPR in the Project Explorer window. See an entire GPR project in a single view in MapView window and view GPR lines in the Line Preview Window.
LineView: EKKO Project LineView allows the user to plot and scroll through multiple lines at once. Parameters such as gain adjustment, background subtraction, and velocity calibration can be used to quickly identify target hyperbolas in the data.
Interpretation: EKKO Project Interpretation allows the user to add points, lines, boxes, annotations, pictures, and videos to lines or GPR plots to help identify subsurface objects and boundaries and document findings.
SliceView: EKKO Project SliceView allows users to visualize large volume of grid data in map view as series of slice depths to visualize GPR results.
Processing: EKKO Project Processing allows users to edit lines by cropping positions and times, reposition, delete, or insert traces, apply 2D/spatial/time filters, apply gains as well as other functions to process data.
Read move about Sensors & Software EKKO Project.